Event
Date: Friday, April 16, 2021 at 5:00:00 pm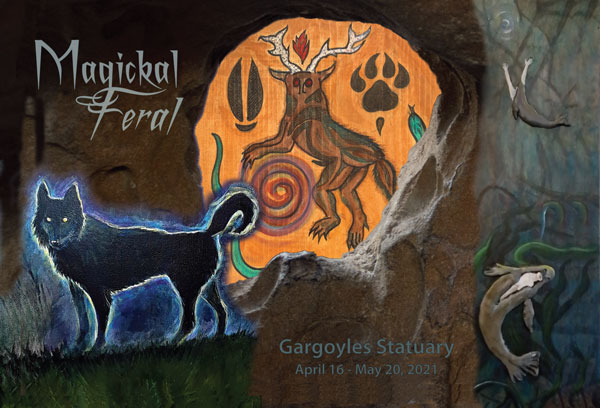 Gargoyles Statuary presents:
"Magickal Feral"
Art by Jessica Geiger, Denny Sargent and Keith Amarak Waters
Date: Friday, June 20, 2014 at 6:00:00 pm
Join us on Midsummer's Eve for a gathering of amazing Northwest artists celebrating the Divine Feminine in her myriad forms.

Merlyn Ahern, Braden Duncan, Heidi Estey, Valerie Herron, Thea Maia, Monica Miklova, Maxine Miller, Lisa Noble, Laura Tempest Owlkeyme, K. Amarak Waters, & Lis Wright-Ivec
will bring us images of inspiration & mythos.

Date: Friday, April 18, 2014 at 6:00:00 pm
Gargoyles is pleased to present:
Spirits of Earth and Ether
Featuring new works by K. Amarak Waters & Jessica Geiger
Their works will include animal spirit paintings and sculptural nature deities and elementals. Also featured will be Keith's cat and wolf totem sculptures.
Opening Reception Friday, April 18th 6:00-9:00pm